Just recovered from 48 hours of bike-infused goodness, courtesy of the Bicycle Film Festival and a couple of alleycat races.
First, there were lyrical movies like Macaframa, in which Phil and Colin roll up/down/around town struttin' their smooth tricks: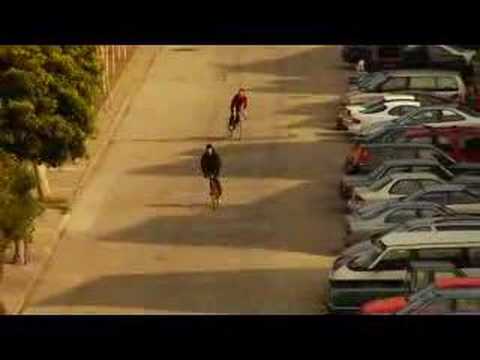 There were two AMAZING shorts — Street Fighter and Skiboys — by Benny Zenga; I'm gonna do whatever must be done to get my paws on those. But the highlight of the show, at least judging by the racuousness of the crowd at the Victoria Theater, was when the East Bay Scraper Bike Boiz got on stage with their scraper bikes: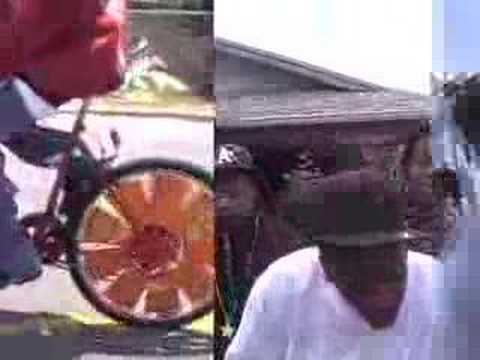 There were also a couple of alleycats that I raced with Devin. Not sure why, but partner races have been a theme for the last month around here. Four weeks ago, we rode a race in honor of the anniversary of two messengers, and, after riding around for an hour, I shoved a delicate pastry into Devin's mouth and he read me a sweet poem at the finish, and we ended up in 4th place. So last week, when I heard that Demarco was putting on SF Scavengers as a partner race, I called up Devin… a frantic, sweaty hour later, we cruised in to Gestalt in 1st place (my first alleycat win!). Yesterday, Demarco hosted another partner race, called Best Friends Forever — so I called Devin an hour before the start and he boogied down to the Ferry Building just in time. I was in within view of the first and second-placed guys through the second checkpoint; but probably flubbed it when I chose to run up the Lyon street stairs with my bike over my shoulder rather than ride up through the Presidio. At any rate, Devin and I cruised down to the finish line on Capp st. in 3rd place — and took home some sweet Chrome bags with the Bicycle Film Festival logo on them.
So here's to all those race sponsors, race organizers, awesome friends, and incredible film-makers who put so much energy and love into making it an awesome weekend.