A bunch of great pieces about bikes, biking, bike culture, and bike safety have landed in my lap in the last two days.
1) Wired Mag is showing off 10 amazingly modified art bikes, including the rocket bike, seen here (not quite) launching over Islais Creek, down the hill here in SF.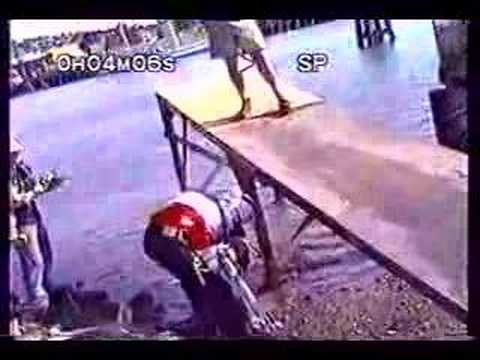 2) The NY Times features a nice travel piece on a the latest, greatest way to get around by bike in paris: on a Velib. There are more than 15,000 of the bikes at more than 1,000 spots around town, open 24/7, and all you need to unlock one is a credit card. Better yet: the first half-hour is free; after that its 1 euro for the next half hour, 2 euros for the half hour after that, and 4 euros for each half hour after that. Sounds like an awesome way to promote biking for short trips around town.
3) The NY Times also has a blog post not quite summarizing some of the latest conflicting data on bike safety and the risks of cycling…Speaking of which, here's a classic film about a bunch of kids monkeying around on their bikes. (The 1963 pace is kinda slow; for the summary, jump to 12:45)